Latest Auckland Salsa and Zumba News:
---
December 8th, 2013
Join us this Monday night for Salsa con Coco Dance Class and check out our Christmas Specials especially for you.
Christmas Specials:
Ladies Dance Shoe Specials only $70:00
Concession Card 10 Classes for $70:00
Shout yourself or a friend a pair of shoes for Christmas.
Or
Give the gift ($70.00 / 10 Class Concession Card) of Friendship / Self Confidence / Loads of Fun all while learning the most exciting dance on the planet – Salsa! Or shout yourself and be in for an amazing ride of learning new moves, making new friends all while having a great time at the Salsa school whose middle name is Fun!
Salsa con Coco Dance School – Every Monday Night – 8:00pm to 9:00pm – Trinity Hall, 400 New North Road, Kingsland.
$10:00/Casual Class
Professional Dance Teacher Coco:
Breaks down the moves so that they are easy to understand
Performs the routine at the end so that students can video it
Introduces an exciting new routine every time
Helps new people to learn and understand
Adds humour to the class so that everyone relaxes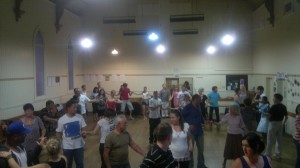 « Older Entries