Few dance bands enjoy the awesome feeling of a full dance floor from the very first song. BANDA LATINA, the hot Latin American group that took the entertainment scene by storm when they arrived in New Zealand from Peru in 1991, has a sound that proves irresistible to all walks of life.
So thrilled was the Hyatt Hotel in Auckland after BANDA LATINA performed at their New Year's Eve party in 1992, they immediately rebooked the group that night for their 1993 and 1994 New Year's Eve parties. They also entertained thousands of people at events like the Devonport food and wine festival, Gisborne new year's street party, the Big day Out in Auckland, Mission Bay Jazz festival, Waiheke Island Jazz festivals, and recently Auckland and Hamilton Santa street parades. Banda Latina have also performed in Hotels, pubs, restaurants, festivals, Mardi Gras, balls and any other venues all around New Zealand where the locals wanted something lively and exciting, something "different".
And that's what Banda Latina is: energetic, exotic, passionate, in a few words : an unforgettable experience.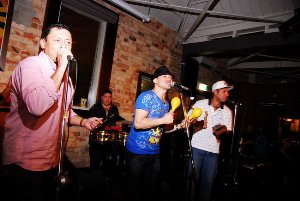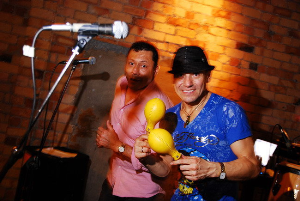 The six piece group features EDUARDO on lead vocals and Peruvian vocalist-musicians providing the rhythmic chorus while playing instruments that include a line up of congas, bongos, Latin timbales, drums, huiro, campana (cowbell) and maracas. This is augmented by backing tracks which provide a full band sound.
Performing music from the romantic Bolero and swinging Bachata, to the lively rhythms of salsa, cumbia and merengue, the exotic Latin American sound is enhanced by co-ordinated dance steps from band members. Banda Latina is currently a resident band at THE KINGSLANDER in Kingsland every Wednesday, where they have been teaching and performing their lively Latin rhythms for over 5 years.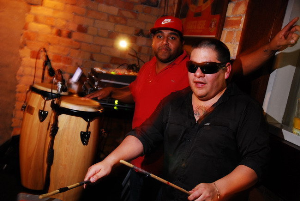 Whether it's the lively, fluid Latin American sound of Salsa, the provocative, sexy sound of Bachata or the emerging new moves of Cumbia, with it's lively percussion beat; BANDA LATINA will have even the most dedicated NON-party person joining the fun. They are good looking, exotic and guarantee a lively night.


Please for more information and to hire the band, contact:
EDUARDO on 0274 770 627 or eduardolatino@xtra.co.nz



Banda Latina performing "Que levante la mano"
Come and dance to Banda Latina live from 9pm on Wednesdays at the Kingslander.